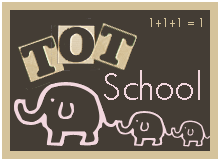 We didn't get to do too much tot school this week. I don't know why but it was just one of those weeks, I kept thinking it had to be almost Friday already. :)
Here the Tots are mixing up Lemon Cookies. We like to make cake mix cookies. Easy and a fun way to teach cooking basics.
The finished product :)
(I told them to smile and say cheese and this is what they did! Silly kids)
New lacing cards I picked up on clearance at Ross!
They had alot of fun with these. I didn't really make them go all around the edges, just kinda let them lace how they wanted this time. I will probably have them do a bit more of a pattern next time.



We played with this awesome space floor puzzle. It was a little advanced for the tots but big brother (5) helped them out. They loved it and afterwards there were little cards to pull out and find the match of on the puzzle. It was fun and we got to talk all about space. I also found this puzzle on clearance at Ross this week.


I hope to do some more organized like activities this week, of course we will see what really works out. :)